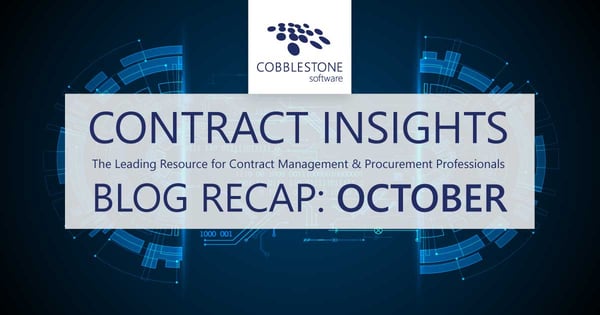 Did you miss any of our blog posts from October? Don't worry; we have outlined each of them for you. Stay up-to-date with industry topics, real-world case studies, and contract management and procurement best practices by reading the latest CobbleStone® content.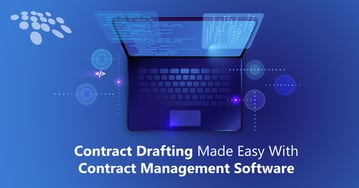 Contract drafting is a multi-faceted and complex process. It can be challenging if organizations are relying on manual tools. Leave emailed collaboration, local file storage, manual tracking of multiple contract document versions, manual clause tracking and clause storage, and other error-prone and tedious contract drafting methods in the past by embracing robust contract management software.

You may have seen or heard the term CLM tossed around in conversations and online. However, perhaps you do not have a comprehensive understanding of what it truly means. Read on to discover an introductory overview of CLM.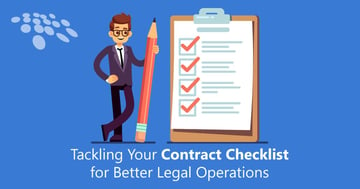 There are many moving parts involved with a contract, and it can be easy for your organization and counterparties to get mixed up at some point in the process. This is why a contract checklist is an essential part of the commencement of a contract. Read this blog for an overview of a contract checklist – as well as what solutions your organization can leverage to navigate that contract checklist successfully.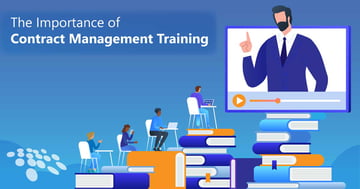 If you are a new CobbleStone Contract Insight® user, we understand that learning the contract management software system can be intimidating at the outset. Well, rest assured, CobbleStone offers a myriad of training resources to ease concerns you may have! CobbleStone can provide training resources to fit your needs - whether you are a brand-new client, a new user of the system, or simply want to brush up on a few features.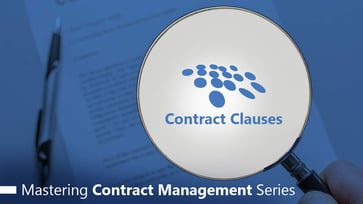 Clause management can be challenging for contract, procurement, and legal professionals. Manual contract administration tools prove to be less than effective ways to generate optimal contract documents and clauses - and rarely lead to fast approvals. Contract clauses can support standards and reduce contract risk and, when used to their potential, can positively impact your contract management process. Learn how to master contract clauses in this blog.

Contract redlining can prove to be a tedious process during negotiations. Coordinating with stakeholders during the contract redlining process using siloed processes can further delay contract negotiations. Read on to learn how you can leverage future-minded contract redlining tools that centralize people, processes, and technology in a robust contract management software suite to help automate legal operations for contract lifecycle management success.
Keeping track of contracts can prove challenging, especially without a centralized system. While contract management software provides a robust solution for CLM processes, a basic contract tracking spreadsheet can help you retain some oversight. Read on to learn how you can leverage CobbleStone Software's free contract tracker to streamline your contract process.
The contract lifecycle is a great way to categorize the steps of contract administration, from requests to renewals. But how can you embrace legal operations digital transformation to automate the contract life cycle process? Read this blog to find out.
2022 is quickly approaching and, with it, new advancements in contract management options. To that end, we've detailed five essential tools contract managers must empower themselves with to navigate the ever-changing landscape of contract management.
Document assembly plays a vital role in the contract lifecycle, where document contributors band together to form a cohesive contract document. However - inefficient legal document assembly can stem from manual processes. Read on to discover three essential contract management software document assembly tools for enhanced legal operations and contract lifecycle management success.
Now that you are caught up with our October articles, be sure to keep an eye out for our November content. Never miss a blog post again, and let us notify you when new articles are published, by subscribing to our blog! No time to read? Then check out CobbleStone's YouTube channel for exciting video content. Be sure to like and subscribe!
Discover why thousands of contract management professionals trust CobbleStone Software with their contract management, sourcing, and procurement needs. Book a free demo with a CobbleStone Contract Insight expert to learn more about CobbleStone's acclaimed contract management, eProcurement, and eSourcing software!